Chris is wanting a full S14 build. He's doing a motor build with a full brake and suspension upgrade.

Clean S14

Motor uninstall happening

Look no wheels

This SR was pulled out and going to be built but maybe something bigger and better is in store

Dusty looking SR, a lot of sand on it

Looks good until you see the hole in the block. Another project maybe?

13in Ksport 8 piston caliper. This guy knows how to stop.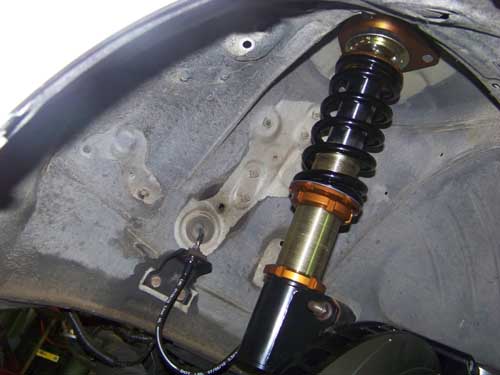 Stance Gr+ coilovers are going to keep this S14 sitting pretty

Perfect match

13in Ksport brakes with 4 piston rear calipers... Doing it right

Ksport Hydraulic handbrake installed with stainless braided line kit by JGY

Waiting on the modified center console

Console done and looking pretty.

Who's wanting to make 500hp?

RB25 with a Garret GT35R

A little lower in the front with the new Stance coilovers

Custom stainless braided lines for the ebrake

One piece steel driveshaft

Front ladder bar installed

Rear ladder bar installed

Chris's Carbonetic 1.5 way metal LSD

The stripped rear pumpkin to make room for the LSD. Say goodbye to the open diff.

Haltech Platinum Pro

RB25DET with our mount kit and drive shaft, Ksport brakes, Haltech Platinum Pro, Garrett GT3582r, JGY fuel kit, and on and on and on... We have the base tune on the car and are making sure it's ready to go onto our Mustang Dyno for power time.

On the dyno

Fuel line and filter ruined by ethanol based gas is getting replaced