NGK Iridium Spark plugs, cold range "7"
Ideal for those pushing higher horsepower than stock. As you know, Iridiums last longer and provide a more controlled, better spark. Most Nissan motors used "5" range for N/A and "6" range for turbo. Those turboing an N/A, these are ideal for your higher compression ratio with turbo. Those with a factory turbo'd Nissan motor, these are ideal for higher boosted applications - $7.99 each

Supertech GTi-R valve spring and retainer combo:
$389

GTi-R main and rod bearings
rods $6.00
mains $8.99

ACL Race main bearings for OEM GTi-R.
$81.00

ACL Race rod bearings for OEM GTi-R factory rods:
$39.99

New OEM Nissan Oil Pump and front cover for GTi-R
$199

GTi-R shims now available and
are available in any size needed:
$19.90

Brian Crower stage II/III Cams for GTi-R
Stage 2: $259
Stage 3: $306
S2 Street/Strip Specification Plug and play application. Short duration for nice street manners, slight lope at idle. Excellent all purpose spec. OEM spring OK. 264° .475"
S3 Race Specification Longer duration profile for added rpm. Intended for fully built engine. rough idle. 272° .494"

JWT S3 Cams for GTi-R:
$549

JGY air filter, $34 includes aluminum MAF adaptor plate for SR/KA/300zx MAFS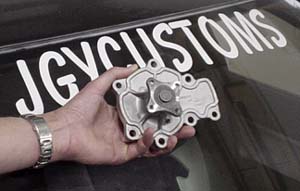 New GTi-R water pumps in stock:
$150

Forgemotorsports, light weight pulley kit for GTi-R's. Great buy at $359. These are the factory size, just much lighter.

Eagle Specialties SR20DET and SR20DE Stroker Kit
91mm stroke, so up from the 86mm factory bore

Rod Journal: 1.888
Stroke: 3.5830
Material: 4340 Billet Steel
Eagle is known for quality parts for the SR20 and this is an awesome crank for the motor. Rated for 900HP.
JGY price is just: $1179

For all those SR20DET owners needing new replacement turbo lines, JGY-DET-line kit for $109, steel braided AN lines for water and oil, includes all needed crush washers

ARP GTi-R head stud Kit - These are designed specifically for the GTi-R SR20DET (bolts are larger on this SR motor), includes 10 studs, 10 washers, and 10 ARP nuts: $149

Mishimoto Oil Catch Can, great for boosted and N/A applications, universal fitment: $99

Tomei SR20 Adjustable Cam Gear for the SR motors
Fits SR20, SR18, SR20DET, SR20VE, SR16VE
Infinite adjustments, allows user to dial in the missing power: $118 each

Piston ring set for all 4 pistons for Gti-R motors. $79 full set

OEM Nissan GTi-R intake valves
$13.99

OEM Nissan GTi-R exhaust valves
$19.99 each

Supertech valves for the GTi-R.
Black Nitride and +1mm oversized.
$188.64 a set

Supertech exhaust valves for GTi-R. made of Inconel material and +1mm oversized.
$263.52 a set

OEM Nissan Gti-R gasket kit:
$150

Double valve spring and titanium retainer kit for Nissan GTi-r and VVL motors, 250lb spring rate, great for both, especially the VVL so that you can rev the motor higher. $354.00