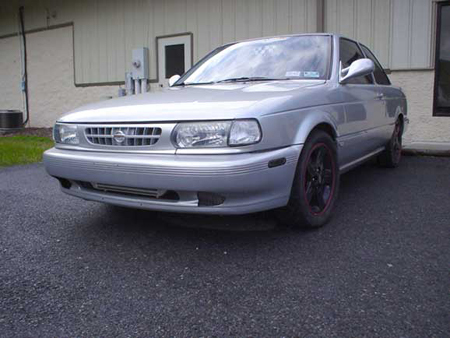 Edward Vanhoy had us install an lsd tranny, big brake kit, Koyo radiator, JGY clutch and a few other things. You can see some of his progress on our project cars page.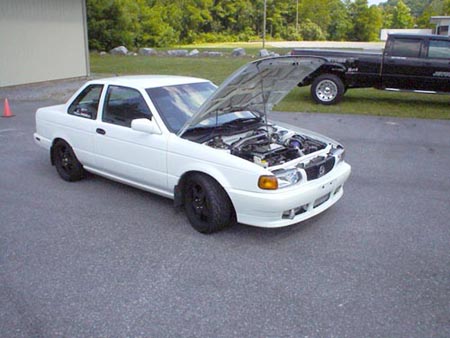 Nelson Goncalves - Elizabeth, NJ, SR20 motor, Haltech, cryo treating and shot peening tranny gears, JGY sleeves, Eagle rods, CP pistons etc etc... To keep up with our progress on Nelsons car you can check it out on our project cars page.

Dustin Sparks - Wytheville, VA, GTiR motor, JGY intercooler kit, JGY fuel upgrade, JGY install of everything, JGY dyno'd at 262HP

Chris Cross - Fayetteville NC, S13 sr20det, JGY-RWD-SR-Rail, Nismo FPR, JGY 240s/Silvia flywheel, 10.4 pounds, JGY- Dry Cell Battery, JGY-SR-RWD underdrive pulley, Greddy oil pan, Greddy Rocker Arm Stoppers, Greddy S13 intake manifold,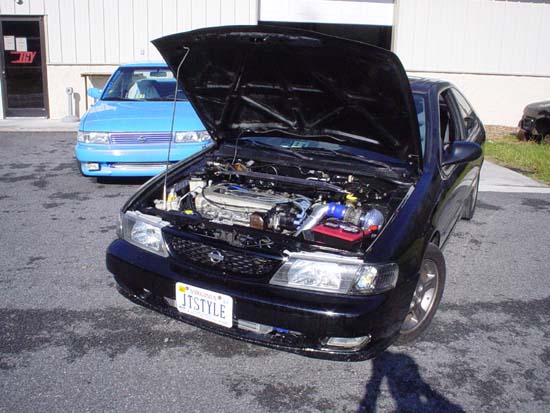 J.T. Wallace - Hampton, VA, T25 Turbo Kit with JGY intercooler kit, JGY Se-r clutch kit, JGY Se-r Flywheel, GReddy 52mm Fuel Pressure Gauge Kit, JWT Tuned ECU, Motor, Tranny,JGY Front Mount Motor Mounts, and more

Richard Carper - Roanoke VA, Silvia ecu, Greddy Informeter, & a whole lot of stuff fixed

Fred Betts - VA, B13 SE-R JDM DE motor, Top Speed header, full 2.5' exhaust

Daniel Bailes - Manassas VA, S13 Silvia SE, R32 brake kit, GT2871R, JGY fuel rail, JGY Crank & GReddy pulleys, JGY 10.5lb flywheel & 6 puck clutch, B&M shifter, JDM VLSD, Silvia FEC, Koyo rad, Whiteline sway bars & about anything else you can think of.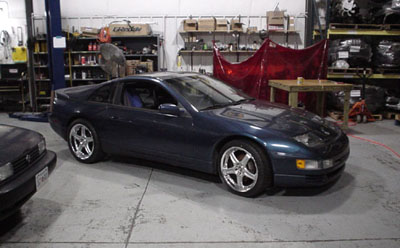 Juan Carlos Zaca - Wytheville VA, Built VG30DETT, Twin GT2554R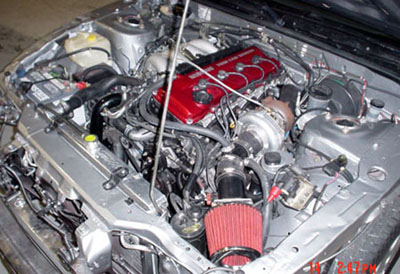 Erik Phelps - Danville VA, S13 KADE(T)

Donovan Gutshall 1991 RB25 Powered 240sx Drift car. Has the GReddy intake manifold, Q45 T.B., custom 3" down pipe, full exhaust & a 6 puck Competition Clutch.

Eric Seasholtz 1993 240sx has a built SR motor, prototype 6 puck clutch/10.5lb flywheel & the Whiteline F/R sway bars

Andrew S.'s S13 motor was built with CP Pistons, Eagle rods, GT3076, 72lb injectors, JGY flywheel, JGY pulley, Greddy RAS, and is ready for some real power; expect 450 to 500 WHP at 22psi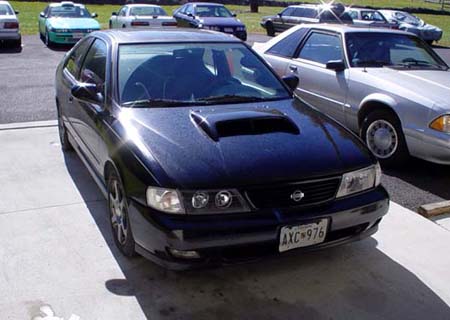 Michael Washington's B14, we didn't do his install, but helped finish it up, installed gauges, fixed a broken rocker arm, installed Greddy RAS, and vacuum lines. Nice guy, nice car, should be allowed to spend more on his car by his wife, he deserves it

Omar's Hershey Chocolate VVL install, VVL motor, Greddy MSS, Topspeed Header, Koyo Radiator, utilizing factory cruise control and A/C, JGY bored MAF

Carl Davis' 2001 B15 with VVL SR20VE install complete with JGY clutch and Greddy MSS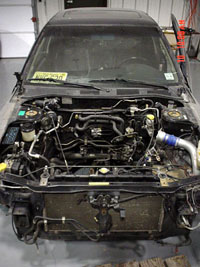 Can you say "big time project"? 2002 G20, with B14 ECU tuned, B15 harness, GTi-r motor with JGYBB37R and goodies....oh, and the car is shaved of all handles and the gas goes thru the tail light.......true New Jersey balla style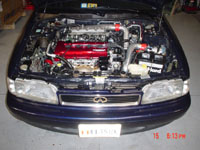 Bryan Pena's parts list was quite extensive... from exhaust to electronics to MAF upgrades....this is one sweet G20T. Funny thing... he had to walk 4 miles on his way to our shop as his car broke down on the way to get the install started. His friend wears Berets like they are in style.

David's built Gtir b14 with JGY bb37. Completely uninstalled, and then reinstalled doing wiring correctly.

Matt's (the liar) 1980 Datsun 210. SR20DET install, custom driveshaft, mounts, fuel cell, exhaust, radiator, intercooler and piping, blitz bov, using all s13 sr20det wiring and ecu.

Scott Rowland's SR20VE Install with Top Speed Header and ACT Clutch, the car's now wrecked, but he's transplanting the build into another shell

Aiching's DET, JDM DE with JGY Avenier Turbo Setup, Intercooler Kit, JGY Downpipe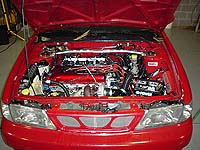 Bruce Link's Crunk 200sx, Bluebird Motor, FMAX Setup

Leslie's VVL install, he's Canadian and don't appreciate porkers.

Tyler Elders' Ride, Avenier Motor, Hotshot FMIC Kit, Gauges.

Omar's P10, Header, CAI, Powder coated Valve Cover.

Dustin May, "ladies man from TN" - JDM DE

Korey Benton - JDM DE

David Wilson a.k.a. FPR - GTIR Motor, custom IC Piping, Gauges, JGY Fuel Rail, & horrible 50lb 4 Bar Fuel system.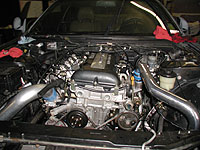 Bluebird Motor with T28 Turbo Kit

Eric S's GTIR Install, custom piping and exhaust.

can't remember

"Matt from Roanoke, he deals" - Clutch Install

Shaun's Car - Everything you can imagine

DET Motor with hood scoop, only top mount JGY has ever installed.

Ground control suspension, Car Alarm, Gauges, Headlights.

Bluebird Motor, custom Intercooler Kit