The TOMEI T-TRAX ADVANCE "is the most effective LSD unit available" & has the best overall advantage in comparison with the other aftermarket products available today. Amazing penetrating angles at the time of Drift, with such persistence in the accuracy of line taking and all aspects of cornering, the T-TRAX ADVANCE shows amazing efficiency with the aggressive cam angles which is optimum for drifting the friction clutch discs also has a larger surface area, furthermore with the use of the coil spring discs and the high setting of initial torque which is raised higher than any other brands in the market today. The TOMEI T-trax comes complete with new rear diff gasket, all hardware, and TOMEI LSD gear oil: $1299

JGY now offers KAAZ LSD kits for your Drifting pleasures! As we all know, Differentials are vital components when it comes to Motorsports, This vital component controls your tire spin in order to accomplish certain driving styles. Kaaz LSD's are no strangers to the world of sport compact motorsports racing. With experience ranging from on-road, drag, drift...Kaaz LSDs are designed to fit your every possible request for a quality and functional LSD.
Kaaz Corporation is the top brand name manufacturer and supplier of Limited Slip Differentials (LSD) for racing and street performance in Japan. In 1998, Kaaz USA was established to supply the same high quality parts to the North American market. Today, Kaaz product is recognized as one of the top brand names from Japan in the U.S. racing and performance industry. Many top teams in various racing categories from drifting to road racing use our LSD units for their team cars. Especially in the drifting scene, Kaaz Solid LSD is considered the top choice LSD from beginners to professionals.
Kaaz LSD is known in the automotive industry as "Mechanical L.S.D.", also referred to as "Multi-Plate L.S.D." Starting at $899

Motul GEAR 300 75W90, 1 liter, great for all Nissan transmission and rear ends, EXCEPT if using a clutch-type LSD Unshearable oil film in extreme conditions. Stays in 90 grade after KRL 20 hours shear test; Very high lubricating power which decreases friction and wear. 90 grade at hot temperature to provide outstanding oil film resistance at hot temperature and/or to reduce transmission noise. Fluid at low temperature to allow easier gear shifting when the gearbox is cold. Less effort required on the gear lever to shift the gears. - $14.75 perunit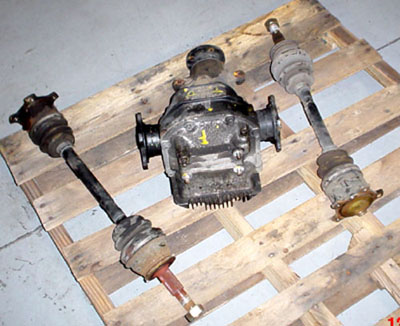 JDM VLSD with axles for S13/S14
Our Price S13 - $480
S14 - $493

Nismo LSD for 240sx/Silvia
Our Price - $808.80

Carbonetic Carbon LSD: Two-way differential (two-way means locking in acceleration AND braking), More than twice the differential lock strength of metal LSDs, Low initial drag resistance with reliable performance - surpasses more than 5 times that of metal LSDs, Acceleration control range in excess of 10 times that of metal LSDs, More than 30 times the thermal decomposition resistance of metal LSDs, More than 70 times the service life of metal LSDs, Virtually noiseless performance, Compatible with automatic transmission vehicles – $1199

Synthetic gear lube (shown above) sold separately - $56 - includes enough fluid for 2 changes

*KAAZ Power Train Gear Oil works for all transmission/LSD uses. KAAZ gear oil can be used on front drive manual transmission and rear drive final gear and has the capability of improving your LSD's performance, giving your LSD a longer lasting life and removing unnecessary noises from the LSD. KAAZ gear oil has the characteristic of low friction loss and at the same time provides high lubrication.
CAUTION: Do not use the KAAZ Power Train gear oil on automatic transmission vehicles.

Greddy S14 Diff cover - $call

JGY Friction Type LSD. Uses friction between the left and right axle to keep them spinning together. Available in street or strip trim. - $219 For reference, our '93 Super Hicas 240sx came stock with an LSD. The LSD gradually worked less and less. We now have the JGY in it and it's great. The install takes about 2-3 hours.Not recommended for Drifting, this is a great street/strip LSD.