AEM Infinity now at JGY
This now replaces the AEM Version II used for years and has more options. Finally, you can now have your tune target an AFR live
For many applications - call for pricing

Prosport 3.5inch Tachometer: $141
With Opening Ceremony; Just 25mm thick; 10,000 rpm limit; 6 stages of brightness; Dual Programmable warning features; Peak Max value feature; Shift Light; 3 different colors of back lighting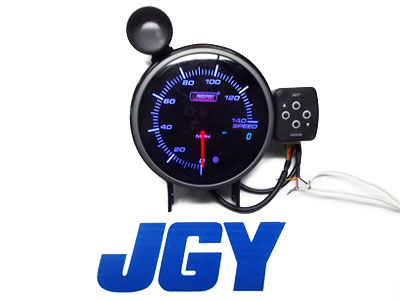 Prosport 3.5inch Speedometer: $136
With Opening Ceremony; Just 25mm thick; 140mph limit; Dual Programmable features; 6 stages of brightness; Daisy Chain connection; Peak Max value recall; Digital display also; Control box and speed light included (hey, slow down); 3 different colors of back lighting

Reikken Battery, light weight 10.6pounds, up to 400 cold cranking amps, can be mounted in any position, just 6.5inches high by 7inches and 3inches wide, great for many applications: $99

The XD-16 ships as an Air/Fuel Ratio gauge, but can also be configured to display any channel in the MTS chain or it can be connected to the LM-1. The XD-16 features programmable LED colors and a remote control button to start and stop log sessions, initiate calibrations, or view min/max values.
The XD-1 can be customized via a web-based print tool. You can choose any unit of measurement, various fonts, upload an logo (or other graphic), and then print the high-resolution scaled image directly onto transparency paper. Use you included blank faces, overlay the clear cut out, and you've got a custom gauge face!
The XD-16 is also a key component of Innovate Motorsports' Modular Tuning System (MTS). Using the XD-16's serial ports you can daisy-chain other Innovate devices such as the LC-1, AuxBox (LMA-3), DL-32, TC-4, and SSI-4.
The XD-16 ($229) can be purchased as an accessory to be used with the LM-1 or with any of our MTS compatible units. This kit includes the XD-16, mounting hardware, serial cable, CD and quick-start guide.
The Standalone Gauge Kit ($329) comes complete with the patented award-winning LC-1 Wideband Controller, XD-16 , Bosch 5-wire Wideband 02 Sensor, Bung/Plug Kit, Software CD, and quick start guide.
$356.38

Greddy Informeter - $call

Read up to 25 pieces of information:
Communicate with the factory ECU to read up to 25 channels. Like: Speedometer, RPM, Water Temp, Ignition Timing, Injector Rate, Intake Air Temp, Fuel Temp, Air Flow Voltage, Throttle Position, WVG, ATF Temp, EGR Temp, Gear Position, 4WD ratio, Exhaust Temp.
Simple Plug & Play Installation:
Just plug in the appropriate cable into your vehicle's Diagnostic port under the dash (IS 014230 or old Nissan fault diagnosis connector)

About the size of a cell phone - $call

XCS Charging system (voltage stabilizer): increase torque, fuel economy, engine response, smoother acceleration, quick engine start, increase headlight brightness, optimize battery life & audio sound quality - $60

Dry Cell Battery for SR20DET - Significant weight savings (Only 14 lbs!) over regular batteries (Avg. 42 lbs) without compromising performance. Required if you do a front mount intercooler kit.
Our Price - $89

Profec Type - S, it's just like the Profec B that everybody loved and simpler than the spec II. This is our choice of boost controllers. GReddy got tired of the complaints that the Spec II was too hard to use... why did they discontinue the original...so they brought it back and made it better. Low and High settings allow for 2 different boost levels going up to 42.66psi. You can even use the remote switching unit with it.
Our Price - $411.00

Greddy Profec B Spec II - $call

Greddy Remote Switching System -
At the push of button, you can change your boost between high and low levels. Ideal for mounting to your steering wheel - $call

APEXI AVCR - $509

Cyberdyne Fuel Pressure Gauge - $89

Greddy's Multi Switching System (MSS) is a two-channel programmable general output controller. The MSS is cockpit-mounted and wires into a vehicle's ECU harness and/or optional Greddy sensors and the electronic devices you want to control. The MSS can control up to 2 separate electronic devices with the capability of turning on and off nitrous, solenoids, I/C-sprayers, warning lamps and many other electronic devices. Each channel can be programmed to activate through one, two or three parameters such as RPM, speed, temperature, boost or any other analog signal - $call

Greddy Turbo Timers - $call

HKS EVC 5th Gen Boost Controller - The current version of the EVC is the first boost controller to feature integrated CPUs in each component (Display Unit, Control Module, and Stepping Motor) for more precise control, quicker response and improved boost pressure stability.
Our Price - $549

Patch Harness for B13, S13, S15, GA16DE, SR20DE(T), SR20VE, KA24E, KA24DE
Finally, a way to add gauges, tap into tach wires, tap into speed wires, run a Greddy Emanage Ultimate, etc., all without hacking your OEM harness. This goes in between your factory harness and the ECU: Just $129

Patch harness for B14, S14, GA16DE, SR20DE(T), SR20VE, KA24E, KA24DE
Finally, a way to add gauges, tap into tach wires, tap into speed wires, run a Greddy Emanage Ultimate, etc., all without hacking your OEM harness. This goes in between your factory harness and the ECU: Just $129

Go Fast Bits Electronic Boost Controller: $269
Touch screen interface, 6 colors, closed loop boost control, handles up to 50psi, scramble boost feature, remote switching capability, up to 6 different boost presets, real time boost/vacuum gauge, peak/hold display, over boost warning/cut mode, super simple wiring/install

The new Profec is compact, powerful and easy to use. The large OLED Display, with the simple two-button / rotary-dial control, make for intuitive operation. An ultra slim controller can display in digital, bar-graph, or graphical modes and can be rotated 180 degrees for installation with the included adjustable mount or flush mounted. By separating the display and control unit in the driver's compartment from the engine compartment-mounted, waterproof, sensor unit, it makes installation straightforward. Only one thin harness is required to be routed through the firewall. The combination of the new 300kPa (43.5psi) integrated pressure sensor, the more compact solenoid valve and faster ECU processer, provide quicker response and the most stable boost curves yet. The Profec also maintains popular features like, Lo, Hi, Scramble boost presets, last-boost display, peak-hold recall, warning alert and safety limiter.
JGY price is $459

AEM Fuel / Ignition Controller (F/IC) - $400

Apexi AFC NEO - $375

For all you Big Ballers AEM EMS
EMS - $1582
True Boost Controller / Gauge - $282
Boost Solenoid - $113
Five Bar Map Sensor - $145


240sx 89-94 Nissan auto meter dual gauge pod - $29.99

AEM Uego Wideband Kit with Gauge - $285, this is an awesome gauge that is similar to the Greddy's A/F ratio gauge, but offers more features, AEM just released the gauge with 6 different faces (of different colors) that come in the box, all included

Greddy EMANAGE - $call
EMANAGE Ignition Harness - $call
EMANAGE Injector Harness - $call
EMANAGE Software - $call

Apexi Super AFC II - Allows you to adjust the fuel curve by manipulating the mass air flow sensor voltage. This second generation Super AFC II also monitors your knock sensor signal to show you when engine knocking is occurring.
Our Price - $342

Apexi Revspeed meter - Engine RPM, Vehicle Speed, Travel Distance, and Battery Voltage (All which can be displayed in real time graph mode, numerical mode, or analogue mode; 1-4 channels at a time.), Peak Hold, Replay (With 60 second playback.), Speed Limiter Cut, 0-100m/200m/400m times with trap speed, 0-100km/h/200km/h/300km/h times, Mid Range Acceleration (The user can preset any range of speed to measure), Stop Watch functions, Best Time Memory, RPM Warning, Speed Warning, RPM and Speed Outputs (For external devices requiring an RPM or speed signal), Tire Size Correction (For acceleration and timing accuracy), and Vehicle weight input.
Our Price - $219

Apexi G Sensor
Retail - $75, Our Price - $63

Apexi Turbo Timer - $92

AEM's digital Multi-Channel C2DI - $297 AEM's smallest and most cost effective ignition module on the market. These units are available in four channel and are ideal for applications that utilize aftermarket stand-alone engine management systems, it's the only capacitive discharge ignition systems available with dual capacitors. This enables the AEM C2DI to produce more spark energy and spark voltage per spark than any other available CDI unit. AEM's exclusive Twin Cap technology stores the energy for two distinct spark events and allows for full spark energy for each individual sparkplug.

Key Features:
189mJ spark energy per capacitor
540v primary/54,000v secondary voltage energy
Multi-Strike capability of up to 10 sparks per ignition trigger (20 degrees)
Smallest (5.5"x4.625"x1.375" and lightest (1.5lbs) CDI on the market
Full spark energy with battery voltage as low as 9v
Tachometer output included

Greddy's Universal Turbo Timer Harness - $call