Juan at ENDE MOTORSPORT in Colombia runs JGY axles

Ben Duval, one of our Caribbean customers, purchased a JGY intercooler kit, JGY exhaust, and JGY fuel rail kit

Chris Dedge purchased some Motodyne products for his pretty G35 from JGY.

Aisao Seasee had us to install a headgasket for him.

Mike Nichols came to us to have some Gti-r pistons installed along with a couple of other things such as a BOV. His car also recieved some personal time on our Mustang Dyno!

Daniel Sturgill bought a TurboXS BOV from us and had it installed here.

Evan Smith's Sand Bar! Some Parts supplied by JGYCustoms.

Dominic Gibson purchased JGY fuel rail, Brake line kit, R32 brakes, Greddy turbo timer, JGY intercooler, Lightweight throttle pulley and a 3" catback exaust from us! No complaints there.

JGY S13 RED TOP, GREDDY DOWNPIPE, JGY HOT PIPE,TURBO XS FRL BOV, KOYO N-FLOW RADIATOR, 255 FUEL PUMP, GREDDY ROCKER ARM STOPPERS,JGY BREATHER FILTER, MOTUL 5w40. Josh installed the motor and just got a little bit of help at the end making it look professional and pretty from the JGY crew.

Scott Scholler - JGY Dyno Tuned, Bluebird motor and JWT ECU

Jesse Ramos- S13 motor, 86.5mm Wisco pistons and ARP head studs, 16valve SR, 3 angle valve job, installing guides, and PCD Surfacing head, Brian Crower valve springs, titanium retainers, Brian Crower Stage 2 Street/Strip cams, Eagle Rods, GT3076R, JGY-RWD-SR-Rail, 72lb injectors

Rob Johnson - CP pistons with pins and rings, 87bore, 8.5/1 compression, PAR 1000hp con-rods for 19mm bearing, 72lb injector, JGY Fuel Rail, coating pistons with gold coat on dome, polymoly on sides, coating turbo housing

Brian Scott - stainless tube style turbo exhaust manifold, GT3076R T25 .86A/R, top speed Manifold, JGY SR fuel rail, 72lb injectors, 6 puck sprung clutch rated for 450 LB-FT

Yuri Manthieu - Sumter, SC - Built motor, pistons, cams, head work, rods

The Shop's S14DE for turbo

Travis Pratt - North Lauderdale, FL - Motul gear oil, KSPORT Coilovers, JGY FMIC kit, JGY built transmission, ecu tune, JGY 3" exhaust, Raxles axles, etc.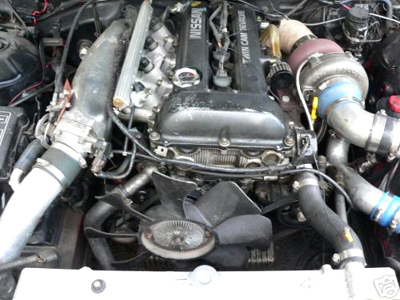 JGY fuel rail, etc.

Schwitzerland

Giovanni Bido - Coral Springs FL, - JGY Turbo kit, JGY 8.5lb flywheel, JGY 6 puck clutch, etc.

Steve "THE BOSS" Radicals Motorsports - Florence SC, - JGY Stage 2 turbo kit

Dallas Dakin - Alberta Canada, - "Built 400hp CA18DET Drift car", we supplied the 6 puck sprung clutch kit

Taylor Ridge - High Point NC, - fully built Silvia motor, JGY stage 2 fuel upgrade, JWT ecu tune & a VLSD

Andris Vacis - Latvia, - Brian Crower - Cams, springs & titanium retainers, ARP head studs, Comtic Head gasket, JGY suspension spacers & K Sport Control Pro

Horizon Motorsports - OH, - (R33/RB25) GReddy FMIC kit, Nismo FPR, Greddy Informeter, Profec Type S & Turbo timer

Right hand drive, S13 hatch - Rocky Point

Kevin Edwards - Antigua - (R33/RB25) JGY fuel rail, 95lb inj., Koyo rad., CP pistons, ARP HS

Jeese Albert - Tulsa, OK - RB25 swap

Right hand drive AWD Blue Bird from the Islands

Reginald Johnson - GA - GTi-R swap

Juan Pagan - FL, - GTi-R Down pipe, Koyo rad, 255 Walbro fuel pump

Sean Kidd - Built KA24DET/S14, this Jarhead knows what he's doing. Took best of show at the NHRA VA Motor Speedway

Timothy Donaldson - G20T DET

Timothy Donaldson built JDM SR ready for boost

Adam Reigleman's G-Ride

Watch out for Adam Reigleman's SE-R this baby's under the hood.

Jared Lee
(It's not really for sale) JGY FMIC kit, KOYO, 390lb clutch kit

Jason P. bought a really BIG Turbo

Daniel's 2000 G20t, with JGY turbo kit, gauges, etc. He did the install, we just finished the wiring for him, installed gauges, timer, and fixed some boost leaks. This is one sweet G20t for a Navy guy.

Dustin Lemons
Koyo Radiator and Greddy
oil filter relocation kit

Michael Hans
s13 motor, GT2871R turbo upgrade, JGY fuel rail upgrade with 72lb injectors, ECU tuning, Cyberdyne fuel pressure gauge, 6 puck RWD clutch, Greddy gauges and intercooler

We sold Matt Pound a few items to complete his motor transfer and did his wiring for him. He seems like a nice guy and his love for the Hooter's restaurants is great.

We sold this Nick the intercooler kit, FPR, and SAFC2. He loves his quick little rocket, and oddly enough, Paris Hilton.

Tim's s13.5 with sr20det automatic. We installed a 300zx lsd and Banana mount.

Jim installed his GTi-R. We just finished it up for him.

Chris Bachi, homeless and a ladies man

1931 Model A Ford pickup, with an S14 SR20DE, yes, you read that correct

Mini Shoes

Mike K's Car

"you can come by and pick your motor up if you want"

Priscilla High Maintenance Keller's 240sx

Doug Oliver's car

Mike Rissler's nice S14 that we did some labor and inspection for

James Barnette is running a JGY fuel rail kit and injectors on his KA24DE powered Nissan truck

Jonathan Cunnyngham purchased an S13 motor set, harness service, GT2871R, JGY fuel kit, Carbonetic LSD, Ksport coilovers, Greddy intercooler kit, JGY pulley kit, JGY motor mounts, Competition Clutch kit, Megan Racing Downpipe, Prosport gauges, JGY suspension components, and a whole lot of other stuff

Jamie Kohn, a circle track racer in Wisconsin, buys from JGY for his arsenal of B13 race cars

Fully built by JGY Gti-R head for Anthony Archer's road race car (Barbados)

Eric Brady from Hawaii has done a turbo upgrade and some suspension work from JGY.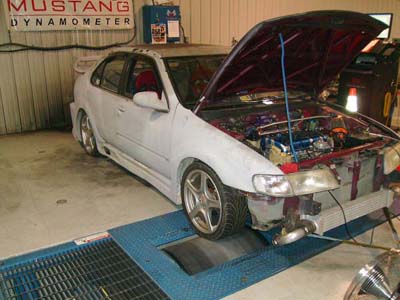 Randy Kesler had his motor bored with HKS sleeves along with a cometic headgasket and some Dyno time!

What you are looking at is a custom JGY intake manifold that we made for Devadip Rivero. That's not the only thing that he had us do for him. We put CP pistons, CP rods, valves, cams and a ton of other things in his motor for him.

Adam Sassi bought a Turbo, JGY fuel rail, Greddy cam sprockets, Brian Crower valve springs, valve guides, Greddy spark plugs, Turbo line kit, 50lb injectors, 38mm wastegate, Turbo XS BOV, Greddy turbo timer, Greddy Profec S, Competition Clutch and a JGY flywheel!

We supplied a VE head to JAP Tuning for this car. For more details on this car, go to this link: www.gt500.se

Josh Holman had a test pipe welded here. Oh, another Honda owner.

Roger Brown purchased Greddy RB timing belt, Greddy RB camsprockets and Greddy SR sprockets from JGY. Very cool car!

Christopher Francois - JGY built roller rocker SR motor, Crower rods, CP pistons, GT2871R, JGY exhaust manifold

Brad Titus; 93 NX 2000 GTiR; 3" downpipe, Nismo FPR, 3" exhaust, JGY fuel rail, JGY clutch, Jgy motor mounts.

Mario B.'s SR20DE; Boring, 3 angle valve job, Shim service, Eagle rods, CP 8.5.1 pistons, Brian Crower stage 2 cams, cometic headgasket

Jon Wells' Stroked 2.4L

Steve "The Boss", Radicals Motorsports - Florence, SC
JGY Fuel system, GReddy intake maifold & timing belt, six puck sprung clutch kit, T3/T4 turbo, XO2 turbo manifold ect.

Anthony's turbocharged GA 1.6L

Nathan Delaginte - Lahaina HI, - Apexi AFC Neo, HKS actuator, Silvia transmission, Brian Crower valve springs, GReddy Rocker Arm Stoppers

Bandon Branch - Granite Falls, NC - Silvia motor swap, JGY flywheel

Richard Tomlin - GTi-R

Johnson City TN, - CA18DET

TN - Built motor, JGY fuel rail

NC - S13 swap

Edgardo Vargas - Milwaukee, - RB Clutch kit

Chris - CA, - B14 SE-R GTi-R motor, JGY fuel rail ect.

Shaun Stewart - Roanoke, VA

Jason Janosco - Lake Havasu, AZ

Late Start Racing - SR16VVL - SwapChehlis, WA

Jordan Painter - TN, - JGY 6 Puck clutch kit, 10.5lb flywheel, HKS SS BOV, GReddy RAS

Roger Raymond - FL, - JGY 6 Puck clutch kit

Mario Bocanegra - TN, - MOTOR BUILD IN PROGRESS, JGY 6 puck clutch kit

Chris Littlebury - KADE(T) sleeper, TX

Craig Wildenradt - SR20DE(T), Rockledge, FL

Jeremy Nichols, Richmond, VA

Brandon Burnett, Fully Built SR, Watch out TN.

Cory Short, Built GTi-R, KOYO, pulleys, S3 cams, complete fuel setup.

Adam Sassi, A Silvia swap in a MG! GT28RS, top mount turbo manifold, Topspeed intake manifold, JGY flywheel & 6 puck clutch.

Theodore Daunt, Check out the B-mer Headlight's, BIG brake kit, GReddy catch tank, pulleys

Glen Stafford
JDM Front end conversion/carbon fiber hood

Brent Hall
SR20DE motor, Pulley SER 4 UR pulley kit, lightweight Flywheel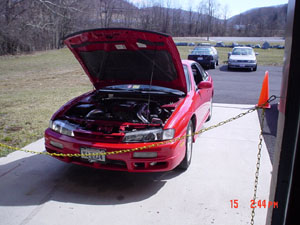 David Fountainís S13 powered S14, note the tag...NA KA? The jokes on you when he passes you. We had to do some minor adjustments to this kids swap to make it run the way he wanted to, help with some BOV work, and throw a sticker on it. David's currently attending Radford with a major in Accounting and a minor in driving his girl's Cherokee :-) His father is still a little jealous that his son's car is faster than his Camaro SS.

Rob Delmont's cool G20, supplied by JGY with turbo kit, electronics, cams, fueling, etc. Nice looking car with great looking install.

William Futrell, all turbo parts, intercooler kit supplied by us, He's a great installer not a photographer

McKenzie's SE-R, he now works here... He gave his girlfriend a promise ring. His best friend is called "Timeslip" and loves sweaters. He once had his nipple pierced, but it got ripped out when he was sleeping. He likes to eat Subway and Sonic for lunch.

Chads' s13 with blacktop.

Garrett, he loves the blue, and insulting a complete motorswap/transmission rebuild/exhaust job just because the BOV didn't open as much as he would like. It's very similar to insulting your contractor that built your house, even though everything is great...just because the back door's screen has a crease in it.